Welcome To Bare Bones Mounts!
We specialize in European skull mounts using Dermestid beetles for cleaning. These beetles remove every trace of flesh from your new trophy, while leaving even the most intricate bones intact. There is no better choice for skull cleaning, particularly when the skull will be used for trophy scoring, since our process does not degrade bone structure or shrink the size of the skull. Our methods maintain the natural strength of the bone, ensuring a beautiful skull mount that will last a lifetime.
After "beetling," all Bare Bones Mounts are finished with an extensive degreasing and whitening process. Cleaned bones are saturated with a museum-grade preservative (Polyvinyl Butyral), which seals and protects the bones, leaving a clean matte finish.
Whether you are a hunter, taxidermist, guide, game farmer, artists, or museum, we are proud to offer the same top-quality cleaning and processing. Whether you have the smallest muskrat skull, or the largest Boone & Crockett moose, we want your trophy skull to be processed and finished exactly the way you want it. Whether you have a deer, bear, moose, or elk skull, or if you want us to process the animal bones for an entire skeleton, we can give you a mount you will be proud to display!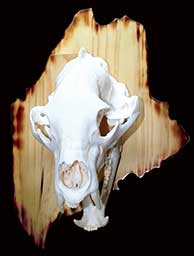 CONTACT US TODAY!
At Bare Bones Mounts, your trophy skull mount or animal skeleton is all that matters.
322 Clark Road
Prospect, Maine 04981